Make a climate justice lantern in 3 steps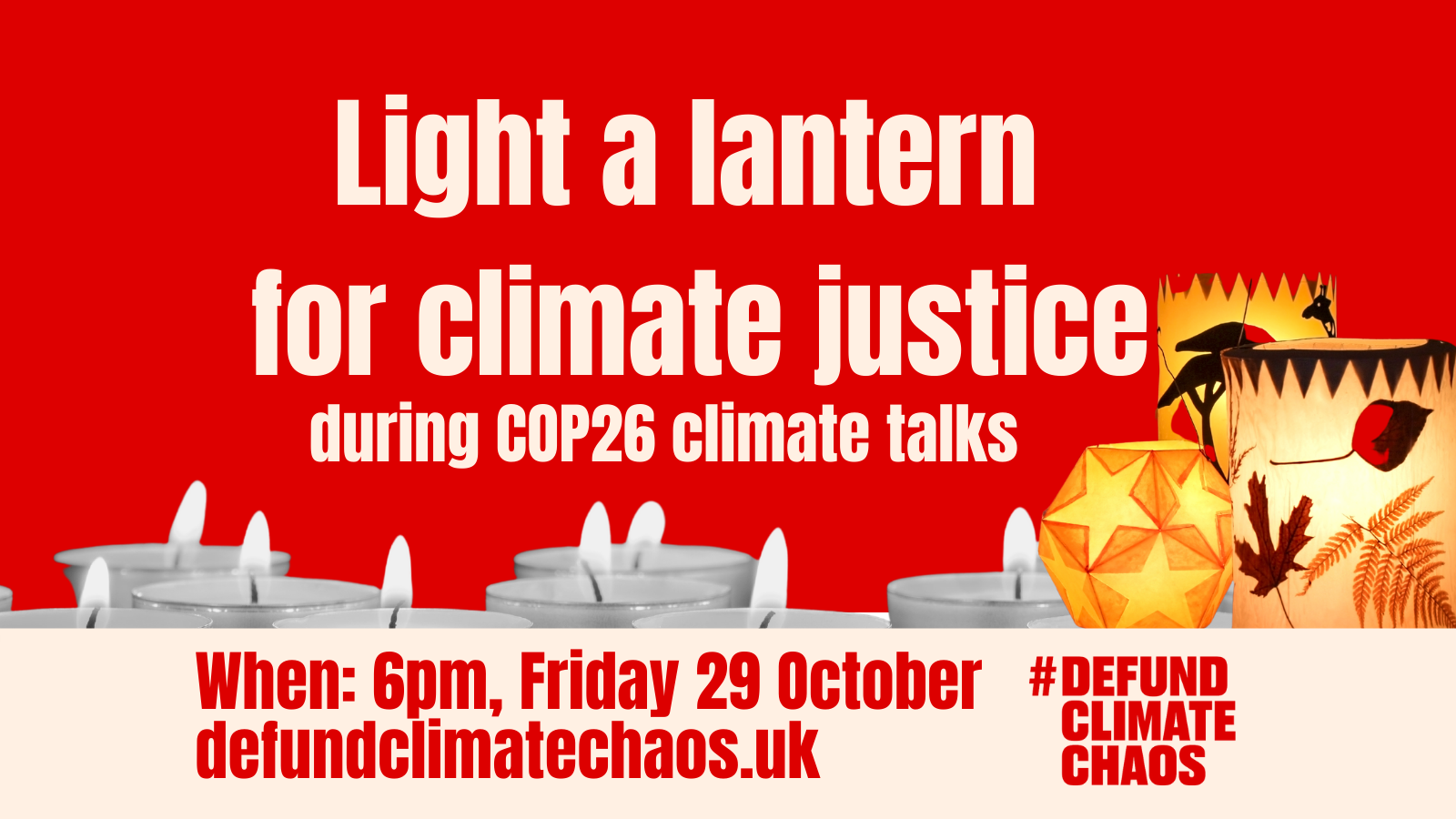 At 6pm from Friday 29th October until the end of the Glasgow climate talks, thousands of people around the country will light a lantern to shine light on their hopes for climate justice.
Here's how to make your own and join in.
What you'll need:
Large glass jar(s) with straight sides
Some wire, ribbon or pipe cleaners for handles
Battery powered fairy lights or tea lights
Defund Climate Chaos newspaper or your own tissue paper and printed images on thin paper.
White glue
Paintbrush and scissors
Method:
Step one - Design your lantern
Think about the climate crisis, the people, places and things that you want to protect. Pick something personal to you or that touched you.
Think of a simple a design mixing colours, words and images that will shine through lantern. Think about how your words or design will shine through when lit from the inside.
Prepare your materials, eg. using strips of coloured tissue paper, cut outs from this newspaper, pens and thin paper.
Step 2 - Make your lantern
Wash and dry your jar
Attach a handle around the rim of your lantern
Paint a thin layer of glue on the outside of the jar with a paintbrush
Place your design elements where you want them
Cover with a final layer of glue and leave to dry
Step 3 - Light your lantern at 6pm
Tell your friends and neighbours and encourage them to make their own lanterns
At 6pm on Friday 29th October, light your lantern in your window, on your doorstep or at one of several vigils and memorial events.
Share a picture or short video message with your lantern on social media using #ClimateMemorial and #DefundClimateChaos

You can also submit your best photo here
Just days before world leaders gather in Glasgow for last-chance COP26 climate talks, climate justice memorials will be laid outside some of the UK institutions with the most outsized impact on fuelling the climate crisis: banks, insurers and investors who fund fossil fuels. Find out more at defundclimatechaos.uk
We invite you to light your lantern for climate justice every evening from 6pm on Friday 29th until the end of the COP26 climate talks on November 12th.